These are the olden days
These are the golden days
These are the days that we get
For time is a con
Yesterday's gone
And tomorrow is simply a bet
Why is life such a leadfoot?
We speed the plows of our world until the only thing we are maintaining is velocity. The momentum of Things eclipses the meaning of them. We mock Sisyfus in the great boulder shoulder.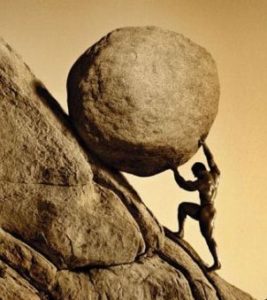 We know to watch for this, of course. We know the lines by heart, the part by rote drumbeat: Smell the roses, live the moment, be thankful for receiving more todays than yesterdays. Or tomorrows.
Yet we press the gas. And blur the background. And grind in the gnash.
How do we stop it? Maybe the first step is recognizing it.
Ask yourself this: What was the highlight of today? Every day has one, if only that it gave us another.
But the question, when asked honestly, can be tricky. And if it's tough coming up with an answer you believe, you may want to check your speed.
When that question is no longer difficult, you'll know you're maintaining a healthy distance.
Which is this:
On the bumper and in the mirror, where today is closer than it appears.