Any pet owners worth their salt believe their domestic partners are god's gift to the animal kingdom. And that's only because it's true.
But while I am full of shit, I fully believe Teddy and Esme are the shit.
It had been too long since I'd seen them Sunday. Ten days, thanks to two road trips that required their boarding. It would be our longest time apart. And it didn't speed by like dog years.
When it did finally pass, I couldn't help but marvel — again — at their differences. From color to size to demeanor, they are polar opposites. Even intelligence (let's just say one may not be, um, MENSA-eligible).
But I also discovered that while they look and behave so differently, they are so alike.
Esme, I think, is the first dog to ever look at me condescendingly. If she has a ball within reach, she will bring it to me, friends, family members, hobos. She'll set it on the ground and look at me. Then the ball. Then at me. Then…She is saying, 'Come on, little guy, throw the ball. That's it. Just throw the ball over there and play fetch. Good huuuuuuuummmmmmaaaaaaannnnn…'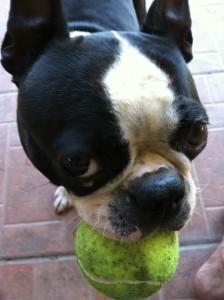 When we are driving to the vet (or anywhere involving unpleasantries), she will sit in the front seat and simply stare at me. She is saying 'I know where you're going, and what you're doing. Sonovabitch.'
Teddy speaks a different language. When I awaken and open the bedroom door, he is invariably, inevitably waiting, saying 'Well good morning! Feel like a drive?! How about a walk to the washer-dryer?! Look, dad, look outside, look! It's the backyard! Oh. My. God…DOG FOOD BREAKFAST!!!!!'
Even heading to the vet, he seems ridiculously happy with his head out the window, his tongue lolling. 'Oh boy! A drive! The vet! RECTAL THERMOMETERS!!!!!'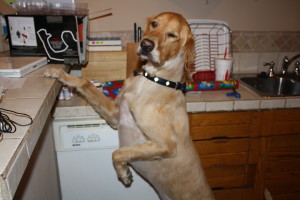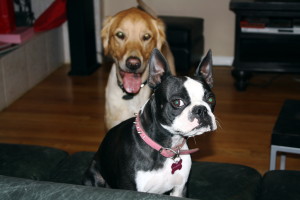 So I watched their reactions at our reunion. Not only was it our longest time apart; Teddy had to be hospitalized for an epileptic seizure the night before boarding. It was their longest time alone.
Esme came out first, with a 'Where the hell is he, that sonovabitch?' scowl with which she greets the planet. But when she saw me, she dropped the facade, hopped on the waiting room couch next to me. She pressed against my thigh, trembling slightly, not making a sound in the animal mayhem around her. She simply burrowed into my lap.
She was saying, in a pure, heartfelt, perfect way, "God I missed you. You owe me so much love."
Next came Teddy. All clatter. Veterinary assistants calling out his name as he walks out, pats goodbye, the scrape of claws as he tries to Fred-Flintone it on the tile floor to get to me.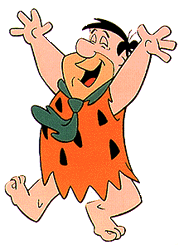 And I realize: they say the exact things, just in polar-opposite fashion.
He was saying, equally pure, equally heartfelt, equally perfect: "God I missed you. I owe you so much love."
We stop for a Coke at the drive-through, a favorite hound haunt. I notice that Esme, for once, wanted to ride in the backseat with Ted. I could have taken umbrage, but how can you deny the beauty of a sister wanting to see her brother?
I smile and look back at the pair, to welcome them home.
Teddy greets me with a slobbering lick that covers the entirety of the right side of my face, from open grin to the lens on my glasses. And here I thought they were so different, when they are simply both sides of love.
Sonovabitch.