After more than 15 years, I went into a Dunkin' Donuts. Or, more accurately, acquiesced to go after a friend threatened driving into a tree if we did not stop there for dessert.
It's not that I don't like Dunkin', or any other food in donut form. I think donuts should be on the USDA's list of daily recommended supplements. I just have an odd memory of the place.
But now, it's nothing like I remember. It was once an unofficial police precinct, known for its sugar, lard and whatever glurp they funnel into their filled donuts. Now, it's Starbucks on a confection high.
Dark wood interiors. Flat screen TVs. WiFi. Smells more like coffee than donut holes, whatever the hell those were.
Even the bag has changed, into a recyclable sack of subtler fonts and hues.

 A far cry from the good old poisonous plastic clutch, emblazoned with neon lettering that screamed where you ate. 

To go there meant taking the Culinary Walk of Shame.
I was taking one more than 15 years ago, when I lived in DC.
It's a deceptive place, the elbow of the nation's saluting arm. It was designed by PIerre L'Enfant, and the Capitol neighborhood itself is spectacular, as artistic a city as Paris.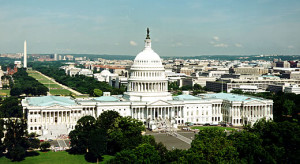 Look deeper, though, and you'll see that poverty concerns far outweigh political ones, that the homeless far outnumber the homes. I watched a drunken drifter roll out from under my Jeep one afternoon. He was using it for shade, sleeping. He would have been human jelly  had I not been so anal about letting the engine warm up.
I came upon another homeless denizen 15 years ago, running home before an early-morning  tennis game with Bill.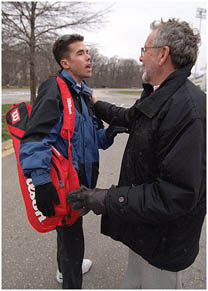 She looked to be at least 50, though she may have been 16; like the sun, asphalt seems to weather skin mercilessly. She called out as I was grabbing the keys to the entrance of my apartment building, in downtown Adams Morgan, a catch basin for the city's human flotsam.
"Hey, donut boy!" she shouts, spotting the bag a mile off. "Got any spare change?"
When approached by the homeless, I usually make eye contact and politely say no (except on Christmas morning). Today, however, I actually had dumped the few coins into whatever charity bin was on the counter, even though I suspect Dunkin' employees just emptied it into the register. Or gave it to the cops for protection.
"No, sorry," I respond.
"Not even a quarter?" she asks. following me up the footpath to the entrance. "Come one, one quarter."
"Sorry."
Lady must have been trying out a new sales technique, one that employed doubt.
"How about a dime?" she says, about 10 feet behind now. "Ten cents?"
"I don't have any change, sorry."
I open the front door, pass through the second set of doors. I hear she must have wedged her foot before the front door  could click shut, because it did not. I heard he entryway doors open.
"How about a nickel?! You saying you don't have a nickel?!"
I don't respond, just walk to my door, unlocked it, get stupidly confident.
"One penny??!!!" She is yelling now. "You don't have one cent on you??!!"
Living room a few strides away, I turn, face her, get growly. "Lady, I don't have one goddamned penny on me!" I bark, and slam the door.
About an hour later, running late to meet Bill. I open the door, and there's…glurp. Lady left a full loogie on my front door, big and beaming as a Christmas wreath.
I've never been a big fan of Starbucks, or many places that engage in chic gouging ('cept Harley). But I gotta say: I like the Dunkin makeover. Seems it would draw less of that haughty loogie crowd.