I tend to gravitate toward crap.
Always have. When I was a boy, I  wanted a Pet Rock, an absurdity I would never request as a Christmas gift, lest my father's ridicule (and let's face it, mom would have busted balls, too). So I waited and bought one when I was 40.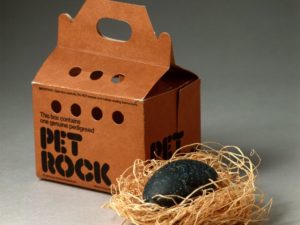 Then there is the Useless Box, an item I saw featured on the TV show Fargo. As its name implies, it's not useful. For anything. It does have a single switch. When you push it, the box opens and turns the switch off. It's not even useful as a container, as the mechanism to turn itself off takes up most of the box.
I love it.
So I guess it should come as no surprise, what happened recently on Amazon. I've always known the company is frighteningly aware of what I do and what my dog likes to eat. Still, it's a little creepy when I go to a website and there is the exact item I had glanced at a minute earlier on another site.
And Alexa had done it again; looked over my shoulder, peeked in my room, glanced at my email.
She knew I was in the mood for crap. So she placed something atop the Amazon app I visit with troubling frequency. There was a poorly-described item, apparently used for kids with ADD and adults who refused to admit they had it (I likely fit squarely there). Clearly made overseas, the title read:
"heytech Penny Fidget Spinners Triple Sides Hand Spinner Fidget Toys Druable Zn-Alloy Up to 5 Minutes One Cent Limited Edition(Brass)"
The description wasn't much help:
"Fidget spinner: 3 minutes average spins great for fidgety hands, add & adhd sufferers helps relieve stress.
Easy to carry:small, simple, discrete and fun, also effective for focus and deep thought with using this hand spinner."
I still had no idea what it was. But it was $2.08, with 50-cent shipping. And there were more than 300 reviews. I thought, "Any gadget that's made of metal, costs less than $3 and has the courage to describe itself as 'discrete' has got to be a bargain. How can I afford not to buy it??" So I did. And forgot about it.
More than a month later, it arrived from China. I now own a dozen of the gadgets.
Turns out, the fidget spinner is something of a modern miracle. Its popularity in the U.S. has made it more of a public eyesore than wonder. But make no mistake: The fidget spinner is the most ingenious toy since the top.
In fact, that's the DNA of its genius: It improves on the top, one of humanity's staple childhood distractions. Rotating on near friction-less ball bearings, a fidget spinner lengthens a top's traditional rotation more than twenty-fold. Think of a Slinky that can walk up the stairs.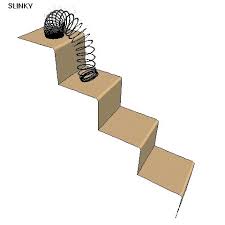 I know this is all hyperbole, bullshit and a marketer's wet dream. I also know it confirms P.T. Barnum's every-minute theorem. It also probably confirms I have "fidgety hands," if not worse.
But there is something to be said for all of the above mentioned time-wasters.
Each are exceedingly honest. It is just a rock. That box is useless. Fidget spinners just spin. They are dumb and pointless — and proudly so.
But in a 140 character-count era, when stupidity is veiled as boldness,  ego as confidence and cowardice as courage, it's a relief to be told honestly what you're getting for your investment.
Even if it is crap.