The sterile, white walls of the UCLA Medical Center beckoned me through her emergency room doors again recently.
Only this time, for once, I got to see the behemoth vertically, with a peripheral view.
Normally, it's the horizontal perspective of fluorescent lights you enjoy from the gurney. But I was there with friends who had to visit the new ER, a gleaming, $ zillion wonder of byzantine architecture. Infinite PR has heralded the state-of-the-art campus, which features valet parking and customer satisfaction surveys.
But, as Maude says, aesthetic appreciation always takes a little time. So I can't really give an honest report, having relied on it for so long. There's a conflict of interest. I will say, however: The lighting is terrific.
And in observing the place instead of puking  on it,  I came to a couple realizations that I probably knew in the back of my mind. But this time, they could not help but find their way front.
The first: You should be able to opt out of jury service, but only if you agree to spend that time in an emergency room. It would not only give people an option to not bathe in legal molasses; this community service would actually improve the community.
How could it not, to watch a parade of real life? I will concede this to fate: It is brutal, merciless and often unfair. But it's impartial. The destitute and the destined alike arrive through same doors, face the same gray horizon. Spend some quality time there, and we may even be less inclined to lament our lives as a living hell. Though I try not to be pollyanic.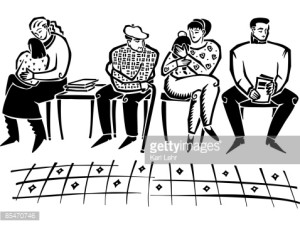 The second: When a family is convicted of Illness, the defendant is often less harshly punished than the witnesses.
You realize it in the faces of families awaiting health news. When you're the one sick, your one job is simple: feel better.
When you are among the Concerned, you can face a much tougher sentence. To make someone else feel hopeful; to be a support beam and not a crutch; to not cry in the middle of random conversations. Or, worse still, to attempt the impossible: Accepting you have so little say in the life you brought into this world.
Yet, look closely, and you can make out real beauty, too. A mother who thinks nothing of a 10-hour admission wait; A father willing to challenge armed men to get a child due attention. The strength of conviction.
As I said, I'm no more an expert on architecture than I am in Spanish, or cooking, or household repair, or anything else that's actually useful in real life.
But there's no denying the building lighting really is terrific. Especially when it illuminates the world inside the building.