I have needed the dogs nearer of late. To feel visible. Or, more accurately, I have needed to be nearer to them, though for the same reason.
They do not care my reasons, of course. All they know is I'm around. They see me.
And they've taught me. Man, they're onto something with this whole backyard thing.
I used not to give it much thought, their everyday world. Hire a lawn guy. Install a dog door to kick them out and not feel guilty. Repair the fence when the Santa Anas show me she's boss.
But there is more to it than that. So much.
Because of daylight savings time (come on, Indiana, pick a side), the sun sets on the yard around 6 p.m. And because that's dinner time, that means unbolting the dog door, calling them in, pouring the dog food, preparing for the night.
But I walked out recently, apparently so quietly they didn't hear me from the side door. And suddenly, I realized: Their world is kind of wonderful.
I could hear the train that bristles by at Balboa and Roscoe. I heard the rising traffic on Sherman Way as people began the buzz commute home. I smelled the Anheuser-Busch brewery two miles away (it's the smell of grain after it's been processed of its sugar and before it's fed to cows). Planes droned the Van Nuys Airport, awaiting their turn.
It was…alive. Particularly when Teddy and Esme realized a real human being! was outside and sprinted around the corner to greet me as if I had been gone since Christmas.
But it was too late. I had felt it, the city surf, in its high tide. I would discover there are low tides as well. After 9:15 p.m., you can hear the gentle hum of the night owl traffic, though rarely a honk. The single prop plane — what do you think up there, at once above and below the heavens, alone and aloft? The train's whistle now more a melancholy wail than a churn. Just as alive. Just in deeper breaths.
And so is borne tradition. If I'm home, I'm back there at 5:35 p.m. The dogs have learned there's no need yet to lose their shit over kibble. They know; their landlord is going to want to be in that chair, which has to be positioned just off the porch, at cement's edge, to catch the sun's full and final rays, to tell it good night and see you tomorrow. And they must assume I'll bring the Mellow Playlist. Because I will.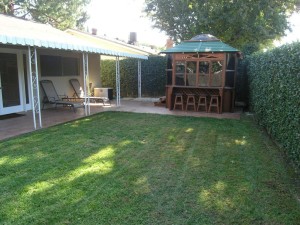 They still don't care my reasons. I guess they don't need to. All they need to know is that they have new company at the shore of the city surf, where you can smell summer on the way, feel a warmth that's beginning to linger, hear a heightening hum and still curl into a lazy, sun-drenched ball of fur that says dinner maybeontheway but what's…the….rush?
What better place to be sure?